Here is a great and timely article from the Environmental Working Group for keeping your kitchen safe and your family healthy this holiday season. We often don't realize what harmful chemicals live in our kitchens - and how these can affect our health. Find out what you can do to minimize the impact of these chemicals on yourself and your family - and the environment at large. Follow the links below for some of EWG's great resources.
Jane's Holiday Kitchen
By Jane Houlihan
Senior Vice President for Research, EWG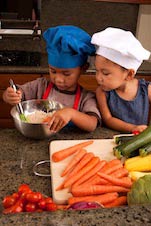 One of my favorite things about the Holidays, especially Thanksgiving, is spending time with my family -- in the kitchen or around the table. If you're looking for great new recipes to enliven your cooking, or as a gift for your friends and family, check out EWG's 2011 Holiday Gift Bag. It includes
Anna Getty's Easy Green Organic Cookbook
, a To-Go Ware Snack Stack and other great items to green your holiday kitchen.
Click here to order one today (supplies are limited).
As Senior Vice President for Research at EWG, I want to make it easy for you to prepare your holiday feasts with your family's environmental health in mind. Just follow these simple tips as you shop, cook and eat together:
Click here for full article...